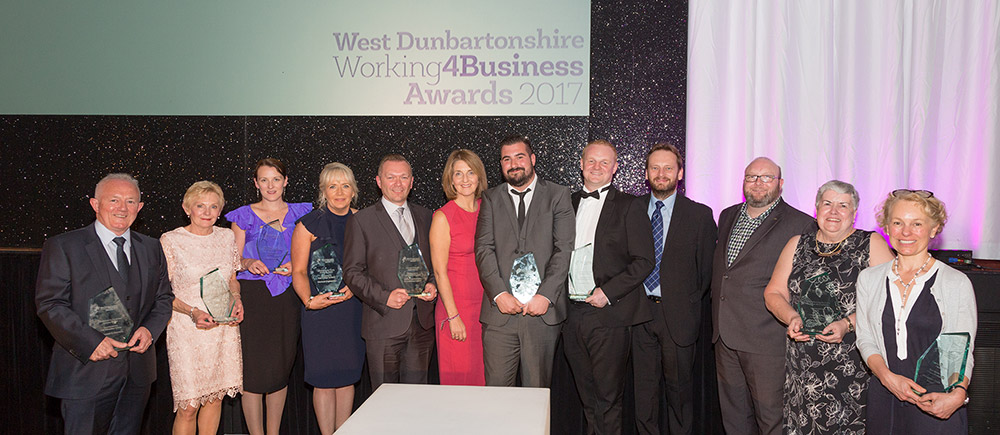 ---
2017 Working4Business Awards Winners Announced
The winners of the inaugural Working4Business Awards were announced to over 150 guests at the glittering ceremony last night.
Held at the Clydebank Town Hall, the ceremony was a fantastic celebration of the success, diversity and innovation that can be found throughout the business community of West Dunbartonshire
These strengths were reflected in the very high standard of entries for each award category, with the judges having to make difficult winner choices.
The awards were hosted by popular TV and radio presenter Kaye Adams and guests enjoyed after dinner entertainment from comedian Des McLean.
West Dunbartonshire Council leader Jonathan McColl said:
"We are delighted with the response to the first Working4Business awards.  The awards have provided a platform for celebrating the category winners and their tremendous achievements.
"The winners really do showcase the best of West Dunbartonshire's thriving business sector. It is also important to recognise the efforts and achievements of the wider short-listed finalists, and indeed, all the firms which entered the awards.
"We were pleased to welcome a diverse range of guests, with attendees from sectors such as manufacturing, electronics, tourism, social enterprises, as well as businesses of all sizes, and from all around the region – highlighting the breadth of businesses successfully operating and succeeding in area.
"The Working4Business Awards would not have been possible without the support of our sponsors and I would like to thank them for their commitment to this event."
"The quality of the entrants was extremely high and the short listed nominees reflect the sheer breadth of business success throughout West Dunbartonshire from small start-ups and individual entrepreneurs to long-established businesses"
Damon Scott, Chief Executive of Dunbartonshire Chamber of Commerce.
Working4Business Awards 2017 winners:
Family Business
Winner – McLaggan Smith Mugs
Most Promising New Business
Winner – Together Energy
Excellence in Customer Service
Winner – Campbell & Kennedy
Community Impact
Winner – SKapde Studios
Developing the Young Workforce
Winner – Glenhead Engineering
Excellence in People Development
Winner – Campbell & Kennedy
Success Through Sustainability
Winner – Golden Jubilee Conference Hotel
Best Performing Business (less than 25 Employees)
Winner – Cordale Housing Association
Best Performing Business (more than 25 Employees)
Winner – Campbell & Kennedy